Drop-In vs. Spray-In Truck Bedliners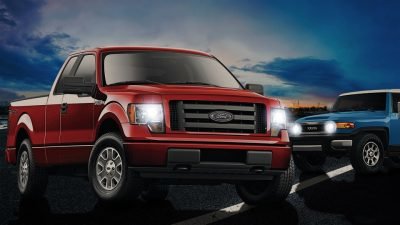 Regardless of whether you use your truck for work, construction, or everyday personal use, a bedliner is the perfect investment. These liners provide UV protection and impact resistance, as well as maximum prevention from daily hazards such as scratching, staining, and rust. ArmorThane offers several spray-in bedliner options to secure your Ford truckbeds.
SPRAY-IN BEDLINERS
ArmorThane uses a hot, high-pressure spray polyurea coating for all spray-in bedliners. This causes the liner to dry to the touch within seconds and allows full, unrestricted use within a few hours. The non-slip texture prevents cargo from shifting around. Spray-in bedliners also have extreme chemical and abrasion resistance, superior impact and compression resistance, excellent color retention, and protect the vehicle from water or moisture damage. Its heavy-duty corrosion-resistant material dampens road noise and vibration. They often last longer than drop-in bedliners as well. If your truck bed often interacts with water or sand, this could be a great option, because this a spray-in bedliner doesn't have any gaps between itself and the truck for water and sand to get trapped in.
Ford truck owners can protect their trucks beds with the best at an affordable rate, thanks to ArmorThane. When choosing a bedliner it's important to understand the differences and make the right decision to meet your needs.